ABOUT US
CORTEC IT SOLUTIONS
 IT & MANAGED SERVICES
No other company can match our level of experience,
rapid response times or customer service level.
ABOUT CORTEC IT SOLUTIONS LTD 
Cortec IT Solutions Ltd is a Dartford – Kent-based leading IT Support, Cloud Solutions, Websites and Managed IT Services provider for small and medium-sized businesses across Dartford, Kent, London and Southeast England since 2003  through our remote helpdesk and onsite callouts. Additionally, we provide website and SEO services throughout the world. We have served over 3000+ clients. The year 2023 marks 20 years of excellence. We pride ourselves on delivering reliable, proactive, affordable IT solutions without compromising our high service and technical ability standards. Our IT services are designed to be streamlined & efficient with your needs in mind. No company can match our experience level, rapid response times or customer service level. We are maintaining an average call answering time of 25 seconds, fixing 93% of problems the first time remotely.
We also have a data centre hosted in Sydenham, between Beckenham and Crystal Palace in the UK. We have complete control over the infrastructure and hardware, so we do not need to rely on a third-party hosting provider and follow their Service Level Agreement (SLA). Therefore, we can handle any errors ourselves, which will be handled quickly as well. Your data remains with us – and is not stored by third parties. That protects your privacy. In addition, a direct connection nearby has benefits, including low latency and efficient processes. The most significant thing is that it will be cheaper than hosting in other European countries or the United States.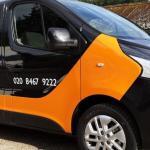 Nowadays, much IT support work can be shorted out remotely; however, we have our dedicated van with the necessary equipment if any assistance is needed for our clients.
2023 is its 20th anniversary. During this time, we have seen many changes, from CD-ROMs and bulky PCs to sleek mobile devices, cloud storage and AI that teaches itself. This allows us to provide a high level of personal service with a team that knows and understands your current IT systems. In addition, the team is up-to-date with the latest trends and technology.
One thing has remained constant throughout our commitment to maintaining industry-leading levels of service and the promise of no lengthy contracts; we believe that our service levels should be the reason for you to stay with us, not paperwork or technicality.
Some customers have remained with us, while others have joined recently. Our staff and the wide range of knowledge and experience they bring keep us growing. Our average service level is five-plus years, and we promote from within that all company managers have worked at the technician level at some point in their careers.
We want to thank all our old and upcoming customers and look forward to where we could be in another 20 years. Perhaps we will have a fleet of flying vans by then, but whatever happens, we will keep looking after your business's IT systems.
It has grown from a small outfit with three employees to a large office in Dartford with mobile engineers, SEO consultants, and web developers. Cortec IT Solutions began in Orpington, moved to Sidcup, and then Bromley. Similarly, it had a satellite office in Dartford town centre before moving into its current building. During these relocations, we got to know many local clients. Hence, we have local sprites for Orpington, Sidcup, Bromley, and Dartford.

Disaster Recovery
What's the plan when your systems fail?

DAVID BUTLER
Support Desk Manager

ERGUN SARAFAT
Support Team Leader

KIERAN MAYHEW
Technical Development Manager

DUNCAN BROWN
Operations Director

JOE DAVIES
Sales Director

IAIN AYRE
Technical Director

NICK HARRIES
Web Services Director