Our company specialises in providing Search Engine Optimisation services to local businesses and companies worldwide. With a team of professionals who are experts in all aspects of SEO, you can be assured that we will help you reach your fullest potential. Our team will work with you to develop a strategy that suits your needs and budget. We guarantee results that will help you reach your goals.
Have you done any search engine optimisation (SEO) on your website? If you need help, get in touch with us. With our on-site SEO consultants and web developers, your business or service keyword will rank on Google's first page organically.
SEO stands for "Search Engine Optimization," which refers to optimising a website, its content, and its online presence to increase its search engine ranking and visibility. When a user searches for a specific website, search engines like Google, Bing, and Yahoo display it in the order it appears. SEO improves your services or company's keywords position in a search engine like Google and increases online visibility. A website's chances of ranking higher for relevant search terms will be improved by aligning it with these algorithms through various strategies and techniques. By making a website more relevant and appealing to search engines and users, SEO aims to increase organic (non-paid) traffic. SEO requires consistent effort to maintain and improve rankings as search engine algorithms evolve. In addition to SEO, paid advertising, social media, content marketing, and more may be part of a comprehensive digital marketing strategy for driving organic traffic.
Keyword Research: Identifying & targeting valuable specific keywords, either short or long, or phrases that users will likely search for information about your website's content.
On-Page Optimisation: Optimising the content, meta tags, headers, images, and other on-page elements to make them more search engine friendly and relevant to the chosen keywords.
Off-Page Optimization: Everything we do other than the website. Building quality backlinks & guest posts from other reputable websites to increase the authority and credibility of your website.
Technical SEO: Ensuring that the website's technical aspects, such as site speed, mobile-friendliness, URL structure, and sitemap, are optimised for search engines to crawl and index.
User Experience (UX): How quickly visitors get information. Creating a positive experience for website visitors, as search engines often consider factors like bounce rates and time spent on a page to determine its relevance.
Content Creation: Developing high-quality, informative, and engaging content that addresses the needs and interests of your target audience.
Local SEO: Optimising a website to rank well in local search results is significant for businesses targeting a specific geographic area.
Analytics and Monitoring: Using tools like Google Analytics to track website traffic, user behaviour, and keyword performance to make data-driven improvements.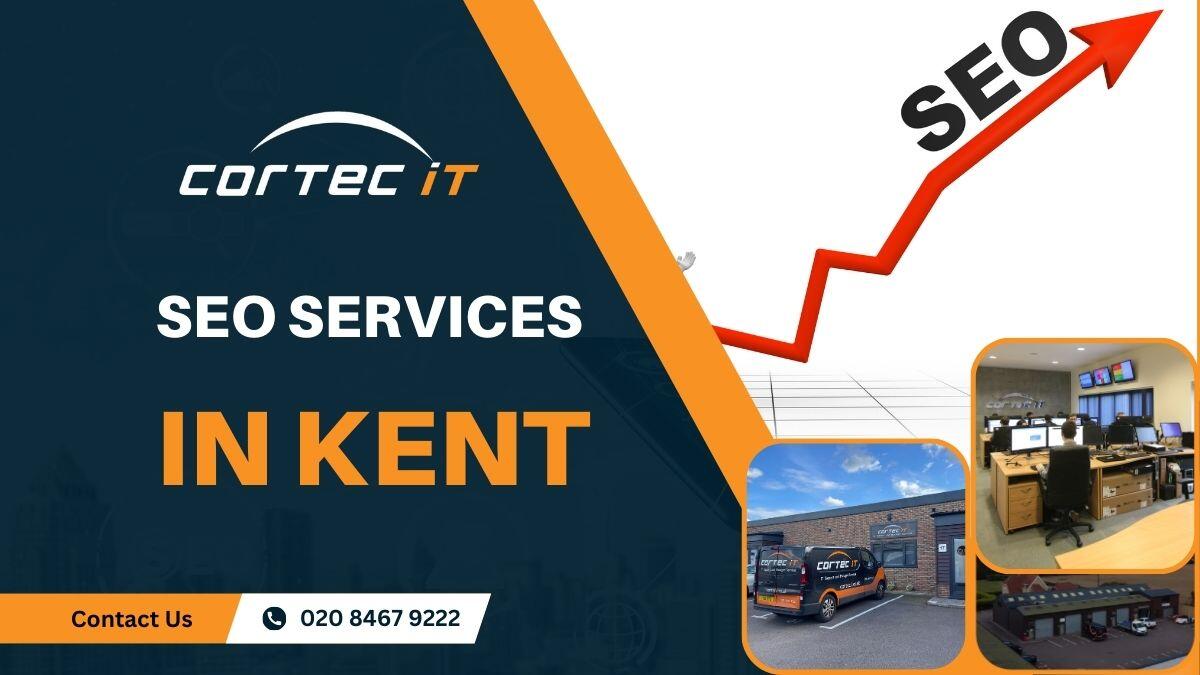 SEO / Ranking / Backlink Audit
Content Writing / Copywriting
Why Cortec IT SEO Services?
It's simple! Please feel free to contact us if you are thinking of boosting your business, growing your brand, or looking for long-term results or a setup for success. We are an IT support company serving since 2003 across Kent, London, and the South East of England. Similarly, We provide Website Development and SEO services for businesses. And we have SEO clients from across the UK and worldwide. We have experience as SEO Consultants and Website Developer. Our team can optimise your website to rank higher in search engine results. Our SEO services help companies reach their target audience more efficiently and increase visibility online.
Additionally, it can increase website traffic and generate more leads. Boost your business with our bespoke SEO packages. If you have an existing website and want to talk to us about improving your visibility, please complete the online form with all your details. Once we receive it, our web developer or SEO consultant will contact you for the next steps. We have highlighted a few points why you need to take our SEO services:
No Long Contracts

Experienced Team

Proactive Support

Friendly Staff
So where is Cortec IT based?
We are in Dartford, a town in Kent, a county in South-Eastern England. Our location is just 18 miles south-east of Central London and borders the London Borough of Bexley to its west. It only takes an hour's drive to reach the centre of London. If you want to take a bus, take off from the Plough Bus Station.  How to get to The Plough by Bus? Please take these bus 429, West Kingsdown,  S10, Greatness, 477, Swanley, 4, New Ash Green, 414B, Dartford, D29, Dartford, D12, Dartford, 414, 414A etc.
We have an in-house team of website specialists and SEO experts for your website and search engine visibility needs. Please meet us in person if you are in Kent. Or book a video consultation if you can not visit our office. Our website developers and Search Engine Optimisation experts have more than ten years of experience in website design, development and Search Engine Optimisation. Therefore, we will not let you down.
Cortec IT SEO Local Areas
As a Dartford-based company, we have been in business since 2003. And we have customers from Dartford, Kent, London, the UK and worldwide. Our IT support service is local, but Web Development, SEO, and Digital Marketing services are available worldwide. Wherever you are, you can place an order. However as based in Dartford, we have served hundreds of Dartford businesses.
As part of our SEO packages, we offer face-to-face meetings with our developers and SEO consultant at our office. Our expert team carries out free SEO audits on your business website and provides a 5% discount if you decide to sign up. Cortec offers comprehensive reporting and analysis on a weekly, monthly or quarterly basis, depending on your package. Take out an SEO contract with Cortec, and you will see long-term organic results. please have a look as below if we cover your city.
SEO Success in Dartford – SEO Success in Kent
If you want an idea of what we can offer your business, please quickly put some of the keywords below into a Google search. These keywords were listed on page one in the first positions as of August 2023. We understand that sometimes keyword positions can change, so we'd like to ask you to check a few keywords. If we can do it for us, we can do it for your business. Think of a few keywords for which your business should be at the top of Google, repeat this process, and see where you rank currently; you might be surprised. To build confidence with us, look at some of the SEO successful results. Search these keywords, and they will appear in the number one position on Google's first page or within Google for the page. We also have many keywords from our clients that appear on Google's first page. Please keep in touch.
IT Support
IT Support In Farringdon
IT Support Eltham
IT Support In Gillingham
IT Support Dartford
IT Company Dartford
IT Support In Grays
IT Support Bromley
IT Support South East
IT Support In Catford
IT Support In Hartley
IT Company Rochester
IT Support In Battersea
IT Support In Longfield
IT Support Lewisham
IT Support In Beckenham
IT Support In Petts Wood
IT Support In Aveley
IT Support In Bexleyheath
IT Support In Purfleet
IT Support In Chatham
IT Support In Clapham
IT Support In Welling
IT Services Dartford
IT Support In Eltham
IT Support In West Malling
IT Support In Crystal Palace
IT Support In West Wickham
And Difference between SEO and Paid Advertisement
SEO  – Drive more traffic to your website organically
SEO is a process in which you implement several optimisation steps and improvements. You need to fulfil the search engine algorithm. There are more than 200 factors that play significant roles for rank.  Once its rank, this will push your website to the top of search engines based on your keywords and location. As a result, it improves your online presence. Please note that Rome wasn't built overnight.  You will only succeed with SEO after some time. It's a long-term effort that yields long-term success.  As we mentioned above, you'll get traffic organically when you are on the first page of search engines. Nevertheless, web traffic is not everything; how you serve your customers and what services you provide also play important role to convert web traffic into sales. Similarly, SEO also requires regular work, support, and optimisation to maintain ranking; otherwise, you will lose your ranking. Paid Ads or PPC is costly but you will get result quick. And another hand SEO need more effort but give regular  and long term success.
Paid Ads – Pay Per Click to drive traffic to your website
Pay-per-click or Paid Ads require you to set up your advertisement account and start the advertisement. You need keywords to attract the right audience; however, search engine algorithms are unimportant. Promote your website and services with a pay-per-click campaign. You will get results quickly and drive extra traffic and leads to your website. PPC campaign management is a digital marketing strategy that involves creating and optimising online advertisements to drive targeted traffic to a website. "Pay-per-click" refers to the payment model, where advertisers pay a fee each time a user clicks on their ad. PPC campaigns are commonly used on search engines like Google, as well as on social media platforms and other websites. The most crucial point in this system is that there is a complete stop once you stop paying for ads. However, once ranked in search engines, it's ongoing until and unless it's not ranked out. Ongoing. Just maintain it up so you will get led while sleeping.
Cortec IT SEO Tools Recommendation
We use world-leading SEO tools to monitor and track website online presence. Additionally, we develop SEO-based websites and offer world-leading plugins.





Short Introduction of Dartford and Kent
Kent is a county in the southeast of England. It is officially known as the Garden of England and has been referred to by this name for hundreds of years. It features a Romanesque crypt, medieval stained glass, and a 1,400-year history. Canterbury Cathedral is located in Canterbury. In the underground Canterbury Roman Museum, mosaics have been excavated. A colourful fish market and colourful cottages can be found in Whitstable, a coastal town to the north. The Turner Contemporary Art Gallery is located in Margate along the coast. There are many hop gardens in Kent, and the local industry produces an abundance of local produce, which makes the area known as the Garden of England. Food and drink sourced from local suppliers are popular in Kent, including Whitstable oysters, Romney Marsh lamb, Dover sole, and Gypsy tarts.
Population: 1.855 million (2019) Eurostat
Area: 3,736 km²
Admin HQ: Maidstone
County Council: Kent County Council
Established: Ancient
Our IT Support, Managed IT Services, Web Development, SEO & other IT services are requested by businesses in various cities of Kent. The major towns of Kent are as follows.
Dartford is the principal town in the Borough of Dartford, Kent, England. It is located 18 miles south-east of Central London and lies adjacent to the London Borough of Bexley to its west. To its north, across the Thames estuary, is Thurrock in Essex, which can be reached via the Dartford Crossing. It's historically significant and has a diverse range of attractions and features. Here are some main points about Dartford:
Geography: Dartford is situated along the River Darent and is known for its river crossing, the Dartford Crossing (Queen Elizabeth II Bridge) . This consists of two tunnels and a bridge connecting Kent and Essex.

History: The town has a long history, dating back to Roman times. Dartford has played a role in various historical events, and it's known for its association with the early medieval period and the Norman conquest of England.

Charles Dickens Connection: Charles Dickens, the renowned English writer, was born in Landport (now part of Portsmouth) but spent part of his early life in Chatham, near Dartford. His connection to the area is commemorated in various ways.

Bluewater Shopping Centre: One of Dartford's major attractions is the Bluewater Shopping Centre, one of Europe's largest retail and leisure complexes. It offers many shops, restaurants, entertainment options, and a lake.

Transport: Dartford's location on London's outskirts makes it a transportation hub. In addition to the Dartford Crossing, the town has a railway station connecting central London and other parts of Kent.
Maidstone,
Chatham,
Ashford,
Royal Tunbridge Wells,
Margate,
Dartford,
Gravesend
Canterbury,
Folkestone,
Sittingbourne,
Ramsgate,
Tonbridge,
Herne Bay,
Whitstable,
Dover
Finally, we hope that all information built confidence in us to place and order on SEO & Website Development. To order SEO Service, you can fill out the form as below or call us, or set up an appointment to visit our office in Kent. Our Web Developers and SEO Consultants will be delighted to help with your Search Engine Optimisation needs. In the same way, please visit our social media to get regular updates and discounts.
Website & SEO Call 020 8467 9222 / 020 3627 1954

Mobile: 07984400449
CONTACT LEAD SEO & WEB DEVELOPER

Boost your business with our
bespoke SEO packages.
If you have an existing website and would like to talk to us about ways of improving your visibility online fill out your details using our form.
Website & SEO Call: 020 8467 9222